What does "Board Certified" mean in Podiatry?
Podiatric surgery board certification in the United States is completely voluntary. While the Board of Podiatric Medicine sets the minimum competency requirements to diagnose and treat patients, a podiatric surgeon may choose to sit for board certification demonstrating their exceptional expertise in that part of the foot and ankle. When a podiatric physician is board certified, it means they possess a cognitive knowledge of podiatric surgery, including the diagnosis of general medical problems and surgical management of foot and ankle diseases, deformities, and/or trauma, and those structures that affect them. Choosing to become board certified also signals a podiatric physician's commitment and expertise in consistently achieving superior clinical outcomes in a responsive, patient-focused setting. Patients, physicians, hospitals, outpatient surgery centers, and insurance plans use board certification as a gauge of the surgeon's knowledge, experience and skills to provide quality care within the scope of podiatry.
30 years ago, the Council on Podiatric Medical Education (CPME) saw a need for board certification within the scope of podiatry and created the National Board of Podiatric Surgery. That board is now called the American Board of Podiatric Surgery (ABPS). The primary function of the ABPS is to certify qualified podiatric surgeons who have the knowledge, experience and expertise in the surgery of the foot and ankle. There are two certifications a podiatric surgeon can obtain:
Board certification in foot surgery
Board certification in reconstructive rearfoot/ankle surgery
According to the United States Department of Labor, there were 12,900 practicing podiatrists in 2010. In 2012, less than 900 of them are board certified in BOTH foot surgery and reconstructive rearfoot/ankle surgery. At Olympic Foot and Ankle, our podiatric surgeons maintain BOTH certifications.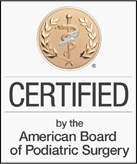 For more information, contact us at Olympic Foot and Ankle at 916.244.7630.