Our Medical Practice
At Olympic Foot and Ankle, we practice conventional medicine and also provide integrative and holistic care.  Each patient's needs are unique, and while some conditions may initially warrant aggressive treatment, most allow for conservative care.  In our experience, many patients prefer to start with less-invasive treatment, so when appropriate and desired, we offer our patients natural treatment options that avoid the use of pharmaceutical agents, cortisone injections, or surgery when possible.  We also work with our patients on diet and exercise and look to natural home remedies as well as shoe choices, orthotic devices, bracing, and taping to meet patient needs.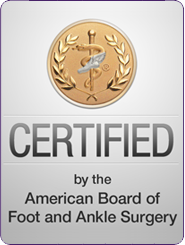 In instances where conservative therapy has been tried and not successful, surgery may be indicated. Our doctors have the highest level of board certification in foot, rearfoot and ankle surgery.
For more information, contact us at Olympic Foot and Ankle at 916.244.7630.